Home
Memoriam Cards
We specialise in personalised memoriam and acknowledgment cards. Customers may provide their personal photographs of mountains, woodland, garden or local scenes for use in the design.
Signs & Banners
Suitable for indoor and outdoor use. Vinyl, Canvas, Film, also photo quality prints for artists and photographers. Roadside advert signs suitable for all events mounted on board for rigidity.
Click here to view.
Stationery
Corporate identity is crucial in todays economy and we at Sureprint will design a corporate identity suitable to your business identity.
Click here to view.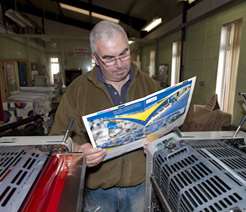 As general printers we at Sureprint have the capacity to handle almost all print jobs, big and small. Litho and Digital Printing Presses enable us to print high volume jobs as well as short run print jobs. There is no minimum amount and we can store jobs electronically and reprint as required.

General Printing
Browse through samples of our work by clicking on one of the product pages and see the vast range of our print business. From business cards to giant banners we will ensure a quality job at reasonable cost. Contact us with your requirements for a free quotation.


Sureprint, Main Street (Quick Print Service )
We also operate a Quick Print Service for the passing trade and local business such as copying, typing, binding, T-shirt printing, memoriam cards etc.
Office hours here are : 9am - 6pm Mon - Fri.

It is our aim simply to provide an honest, reliable and quality service at a fair price.